Many business websites look good but do not deliver what potential clients need and search engines like. This article discusses how one company fixed this problem.
Asked to make the website of Anglia Research more up to date, my first impression was that the site looked great and was perfect for the company it represented. But in the world of online marketing first impressions count less than you might suppose.
Probate genealogy in the UK
Anglia Research is a firm of probate genealogists (also known as probate researchers or, in the USA, forensic genealogists). They work in a specialist area of genealogy, using historical records to trace the heirs of someone who has died and to establish their right to inherit from an estate.
Probate researchers are sometimes employed directly by solicitors and sometimes by the beneficiaries they have located. Until recently, a handful of established medium-sized companies such as Anglia Research dominated the field, with a few smaller companies and self-employed genealogy enthusiasts on the periphery. But things changed.
In response to the reality TV programme Heir Hunters (now in its ninth series), a new wave of aggressively commercial, less skilled and less scrupulous operators began expanding or entering the market.
Enter AardWeb
This market pressure led Anglia Research to contact my company, AardWeb, about their website.
The company had previously spent little of its effort on marketing, instead seeking to rely on its reputation. Its success had been based on employing and developing more accredited genealogists than rival companies, and solving more cases safely.
Managing director Peter Turvey had turned down all requests to participate in Heir Hunters, out of respect for the privacy of his clients and concern about the morally corrosive effects of reality TV.
But Anglia Research now had a problem: how could the company compete with a growing mob of rivals, some ruthlessly exploiting what was effectively a large amount of free TV advertising?
The website seemed a good place to start. Initially, we were asked to improve its appearance. Attractive in a low key way, clean, uncluttered, reassuring and professional, the website captured the company's character perfectly. We did not think its appearance needed improvement.
Pulling back the curtain
The only question that really needs to be asked about any website is how hard is it working to create value for the company?
When we looked at the number of site visitors compared with other players in the sector, Anglia Research lagged behind all its major competitors and even a couple of minor players. However, this might not mean very much in the UK probate genealogy niche because competitors who appear on Heir Hunters might have large numbers of visits by idly curious fans of the programme who would never become clients.
It seemed safer to look at the performance of the website in search engine results. A brief consultation with staff at Anglia Research and some keyword research revealed an initial dozen or so core search terms we thought many potential clients would use.
When we plugged these search terms into Google (anonymously, to avoid personalisation effects) the website appeared in the first page results for only two terms, and even these results were behind those of competitors. Bing and Yahoo results were equally poor.
As far as the search engines were concerned the website barely existed.
Google knows best
Google uses very complex algorithms to understand a website and rate its relevance to a particular search query. It also continually judges a website's trustworthiness and authority. Improving search engine results involves getting to grips with these metrics.
Content is king
The website's poor performance on Google was due to a number of factors.
Many of the core search terms we had identified were not used on the site at all. Google prefers to see a rich use of related terms, but narrow language and terminology were on this site raising doubts about the website's relevance. Moreover, when the terms were used, they often appeared on pages low down the main menu hierarchy or not reachable from the main menu at all. To Google, these page look unimportant, further exacerbating relevance doubts.
The site content was often "thin" on many pages. Google does not usually favour pages light on information.
The site was static, never changing or being added to, leading Google to suspect that it was out of date.
The main pages were reorganised, thin pages eliminated and the rest rewritten to be more rich in information. An articles section was added to make the site less static and help visitors get a feel for the company, its business, its values and its people.
The clarity of the new content, along with usability improvements, eventually led to the website being awarded the Plain English Campaign's Crystal Mark.
Don't make them think
The old site structure puzzled visitors and required them to think about where things might be found. This is a cardinal sin for any information system, distracting visitors from the content, reducing trust and exhausting limited patience.
A good website allows visitors to effortlessly find whatever they are looking for. Aardweb made the following improvements:
We ensured all the most important pages were reachable from the site's main menu.
We added site search for those people who prefer this to menus, and as a fall-back for the rest.
We reorganised as much of the information as possible into "standard" pages, such as frequently asked questions and recruitment pages. Visitors and search engines immediately recognise the purpose of such pages.
We divided the site's main menu into more logical sections, to serve the needs of different groups of potential clients (such as "for relatives" and "for solicitors") or different reasons for visits (such as "our people" and "articles").
We moved links to supplementary pages, and other supplementary information, into the page footer, where visitors expect to find this sort of information.
Sense and usability
Tests have shown that ease of use influences visitors far more than appearance. The old Anglia Research website had many common usability problems, including:
small text with insufficient contrast, that is to say too faint against the background. This looked "tasteful" but was hard to read.
long pages consisting of a few, monolithic paragraphs. Most people cannot take in such text on computer screens and miss most of it.
no special measures to improve legibility on small screen devices like smartphones and tablets.
no facilities for sharing pages with friends and colleagues on social media.
Follow the yellow brick roads
Search engine results are only one of the paths visitors can follow to reach a site. Probate genealogy websites get visitors from links on law sites, genealogy sites, consumer forums and social media sites. Anglia Research had relatively few of these links. This was a reflection of the fact that they had always concentrated on their cases, rather than marketing themselves to potential clients.
Having adjusted its culture somewhat, without sacrificing its soul, the company is turning itself outwards and engaging more widely. Articles on its own website, contributions to sites like this one, awareness of forums and social media engagement through Twitter and LinkedIn are all signs of this. These changes have also increased the number of links to www.angliaresearch.co.uk.
As a result of the changes I have touched on in this article, along with some technical upgrades I have not, search engine results have improved out of all recognition. Website visitor numbers have also been rising significantly for many months.
The lesson for any company who wants to make their website work for them is to:
provide high quality content with a rich mix of relevant search terms,
ensure ease of use,
engage with people both on your website and elsewhere on the web.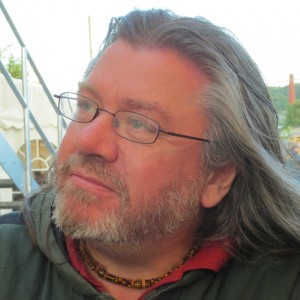 Gary Robertson has been writing software for over 30 years and is currently Lead Website Developer at AardWeb Limited, developers of the new Anglia Research website.
Email gary@aardweb.co.uk.