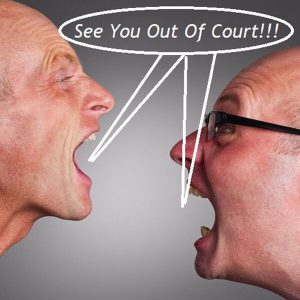 See You Out Of Court
See You Out of Court at buzzsprout.com/815344 is a new podcast focusing on new ways to resolve disputes without burning vast amounts of money through the courts. The podcast will inform you of all the options to resolve disputes without going to court, whether mediation, arbitration, adjudication, ombudsmen schemes and, importantly, by the parties themselves.
One theme throughout will be how technology is designing and offering more effective, practical, speedier less costly and therefore more accessible ways to resolve disputes and in this way to experience justice.
Each podcast will feature new developments with interviews with experts in the field. It will be of interest to mediators, arbitrators, lawyers, any organisation such as insurance companies or others who deal with claims and disputes and of course the general public.
See You Out Of Court is produced by Graham Ross, a lawyer and mediator who has been heavily involved in technology developments in ADR and ODR for over 20 years.
Graham has also set up a new panel of mediators at SeeYouOutOfCourt.com.
The end of a brand
In November 1999 Simmons and Simmons launched elexica.com, intended as "a gateway to the firm's expertise for clients and law students, as well as a forum for the whole of the legal profession to discuss relevant issues in law" (my words at the time).
Elexica won plaudits and major awards, standing out in the early days as a model of how a large firm could showcase its expertise to clients.
In 2006 elexica was integrated into the Simmons and Simmons website and in 2007 Editor Mary Loosemore wrote for us in the Newsletter about the benefits:
"Back in 1999 we wanted to move into online services with a slightly different approach from that taken by other firms. We wanted to send out a message that we were forward thinking, not afraid of technology and able to work in an innovative way.

Technology and the market have changed significantly since then [and] elexica has evolved as the vehicle for getting our know how to clients and contacts. …

As a result of these developments, Simmons & Simmons' online offering is now more streamlined, giving clients and key contacts a seamless experience however they choose to consume our expertise."
And so it remained for 13 years.
Then, in October 2019, Simmons and Simmons' Twitter account excitedly tweeted, "Notice something different? We've been busy working with the best creative talent at [developers] to refresh our brand. Check it out: https://simmons-simmons.com #simmons #law #design".
So I did.
I looked for elexica … it had gone! There are no direct references to the former brand or its microsite. Traces do remain as there are internal links on the site to former elexica resources and these redirect to the equivalent pages on the integrated site. However, though a Google search for site:elexica.com lists 17,800 pages still in its index, all the links bar the default web address give a "404" on simmons-simmons.com – "Sorry, the page you are looking for can't currently be found."
Despite my enquiries, I've not had an explanation.
What a sad end to a once great site.
Out-Law.com
Not far behind elexica in the early web days was Out-Law.com from Pinsent Masons, launched in May 2000 to provide useful information to organisations and to showcase the expertise of Pinsent Masons.
Although no longer hosted at its own domain, Out-Law is still very much a fundamental aspect of Pinsent Masons' web presence. Out-Law publishes over 2,000 legal news stories each year and maintains a few hundred legal guides.
Google still lists 26,500 pages at site:out-law.com but these all seem to redirect nicely to their new locations at https://www.pinsentmasons.com/out-law.
Law Via the Internet 2020
This year's Law Via the Internet conference will be held on 15 and 16 September in London, hosted jointly by the Institute of Advanced Legal Studies, University of London, and BAILII and will focus on Legal Information and Access to Justice.
The Law Via the Internet conferences are organised under the auspices of the Free Access to Law Movement (FALM), a consortium of institutions dedicated to providing free and open access to law around the world.
Further information will be posted in due course at https://ials.sas.ac.uk/law-internet.
Online divorce
Online divorce is one of the key services being developed by HMCTS. It aims to deliver "a national end-to-end digital service for individuals and/or their legal representatives to make an application to legally end a marriage or civil partnership and resolve associated financial issues."
The first stage for personal applications launched in April 2018. This enabled people to apply for an uncontested divorce, upload evidence and pay online. Since then more than 70,000 people have applied online, with 45,000 applying in 2019. More than 8 out of 10 users say they were satisfied or very satisfied with the service.
There is clear information and guidance on the whole process at www.gov.uk/divorce. HMCTS estimate it takes half the time to complete the online process as it did the old paper forms. Less than 1 per cent of online applications have been returned because of errors, compared to 40 per cent under the old system.
During 2019, acknowledgement of service and decree nisi applications were added to the online service and decree absolute digital applications were also released, completing the digital end-to-end service for unrepresented petitioners.
New scanning technology means that any paperwork sent in connection with online applications will be placed on the digital court file automatically.
Following successful piloting, all legal professionals are also now able to use the divorce online process, progressing through to decree absolute, on behalf of their clients. They can manage their accounts and view the progress of their client applications on a single dashboard.
In late 2019 consent order pilot testing began with 124 solicitor participants, and the end-to-end digital journey was put in place, with applications reviewed by 16 participating judges.
Solicitors receive automatic email notifications on key events and all orders are available to download.
… without tears
Online divorce service amicable.io does things differently. It exists "to help separating couples part ways on amicable terms, without spending thousands of pounds on lawyers."
Couples complete a series of intuitive online forms and questions to reach agreement; their amicable "coach" writes up the agreement; and amicable's legally trained specialists complete all the final paperwork.
The High Court was recently asked to rule on whether this model presented a conflict of interest. Mr Justice Mostyn gave a declaration that it did not and also went on to find that amicables's role in preparing and submitting divorce documents did not amount to the conduct of litigation, nor did he believe the drafts which amicable helped prepare were within the scope of reserved legal instruments.
He concluded by saying that, "The declarations made in this case relate only to amicable. Other online divorce facilitators (and there are many) can only rely on them if their business models are virtually indistinguishable from amicable's."
See JK v MK [2020] EWFC 2.
Prof David Hodgson provides a detailed analysis of this judgment on LexisNexis Family Law:
"This is an important judgment for the benefit of online service providers and for the legal profession, as well as ancillary professionals such as mediators. …

It will be for each organisation to ensure that their business model follows that approved by the court and that they do not breach either of the specific requirements. It will be a boost for the leading online service providers such as amicable providing affordable, yet high quality drafting and other family law services."
This first appeared in the Internet Newsletter For Lawyers January 2020.