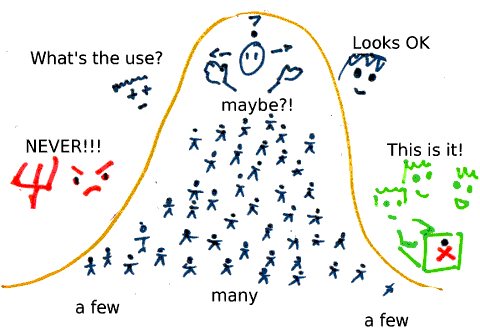 Image: OLPC
Time was when I was a guru of social meeja for lawyers. I was an early adopter with a keen eye for the potential of blogs, feeds and all that followed – and I sang its praises. I had a vibrant blawg with a large(ish) (in the scheme of things) band of followers and a small coterie of keen fellow blawgers. I quickly figured out the joys of Twitter and encouraged others to tweet. I had set up a profile on LinkedIn, made connections there and begun following a few emergent groups. I had also set up on Facebook – not sure why, but all those kids couldn't be wrong, could they? And then the bell curve went mental!
Now everyone's into social media. Every Joe Blawgs, every Sue Grabbit and Run and every legal service company has a "Twitter feed" and a "Facebook page"; there are hundreds more "blawgs" (I use those quote marks deliberately and forcefully); and on all platforms there are people desperate to make as many friends/followers/connections as possible. It's all got out of hand, hasn't it? Turned into some sort of spamfest. Couldn't we go back to 2005 please?
Am I just being a Grumpy Old Man? Let's look at what really sucks with some of the social meeja (and some of the good points too).
The good thing about Twitter is you don't have to follow anyone if you don't want to. That's cool! In fact you don't have to use Twitter at all; it's not obligatory. On the other hand it is kinda neat to exchange banter with your contacts, show off what you know, learn something from them, make some new contacts. That's all good if you have the time to follow the fast-flowing river. Thumbs up. What gets me is the dumb people who use Twitter. There's way too may "marketing" peeps and egotists who broadcast low value pulp and pump up their follower numbers by mentioning and following everyone in sight. I couldn't give a FF how many followers you have. That's no measure of your worth to me or anyone else. In fact if it's too big a number I'll likely steer clear of you. (And yes, Stephen Fry, that's you too!)
What about Facebook? Well, forgive me, but though 600 million plus people (and counting) use Facebook I've yet to find one who extols its virtues as a professional networking tool. You have to be there just because 600 million others are there (and, let's not kid ourselves, most of them are way younger than you). But things could change; it could get better. Anything's possible, but somehow (don't quote me on this) I think Facebook's pudding is over-egged. Sooner or later users will wise up to the fact that they're just advertising fodder.
And LinkedIn? It's a must-have, at least for now: a bit boring perhaps, but adding functions here and there and growing nicely as a serious business networking tool. What gets me again (and this is no fault of LinkedIn but the dumb people who use it) is the complete strangers who profess to know me and want to connect. Well sorry mate but unless you can establish at least a tenuous connection to me you go in the trash can. A tenuous connection will leave you to suffer in my Inbox for a while. Real connections are welcome. Believe me, working up 500+ connections (and thence, let's say 50K+ second degree connections) is not the way to play this game.
Blawgs? I still love 'em. Most of the early wave of blawgers are gamely still at it, though Twitter in particular has taken a lot of the the wind out of our sails. We've been joined by plenty more: some great new sources of analysis and comment, many boring law firm news/update blawgs and many misguided marketing initiatives.
And then there are all these new "businesses" set up by/for lawyers on a blog and a prayer. Those college kids in pyjamas and flip flops surely have made it easy for us all to become squillionaires!
Stop by later for another instalment.